The Barnard Exempt Firemen's Association was incorporated for the relief, aid, and assistance of the members thereof, and their families, who are disabled or indigent, and the promotion of the welfare of the volunteer fire service in the Barnard Fire District. Members of the Barnard Fire Department are also accorded the same privileges.
__________________________________________________________________________________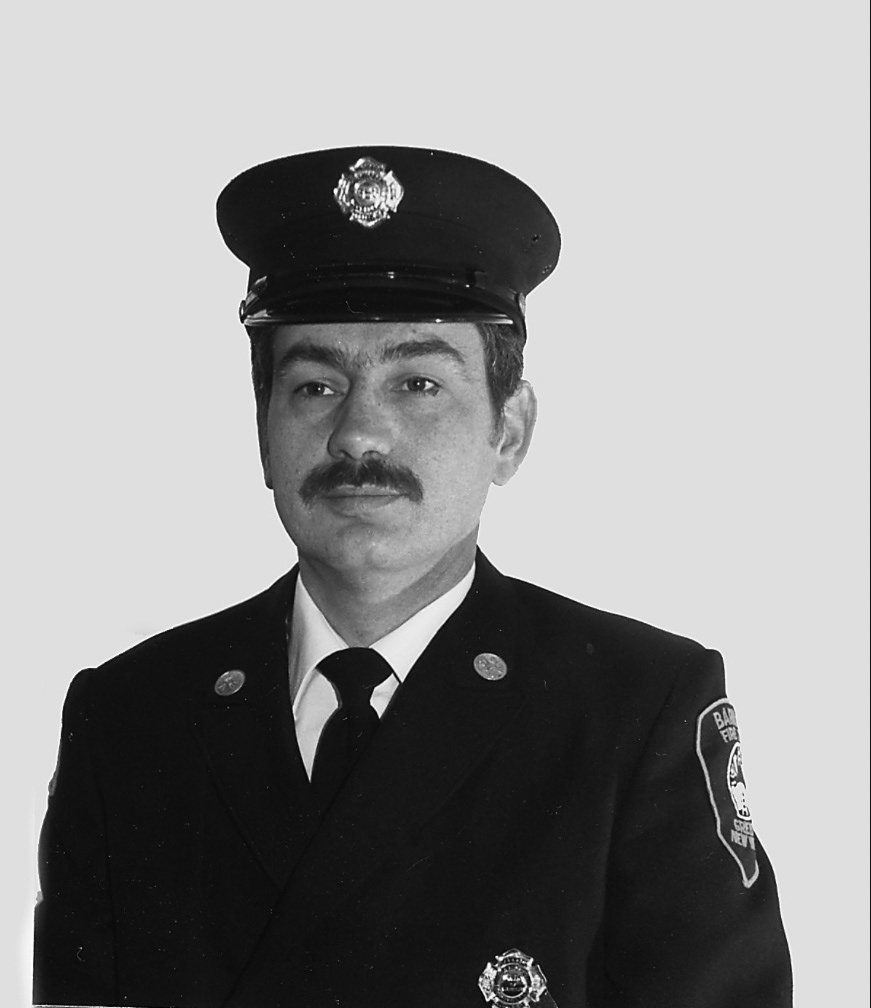 the barnard exempt firemen's association regrets to announce the passing of member dennis joy.
February 13, 1949 - August 30, 2023
Greece: Dennis M. Joy, Sr., a devoted husband, loving father, and dedicated community member, passed away on August 30, 2023, in his cherished hometown of Rochester, NY. He was born on February 13, 1949, in Buffalo, New York, to Salvatore (Doris) and Teresa Joy (Lahiff).

Dennis shared his life with his beloved wife, Mary L. Joy (Marconi), whom he married on September 19, 1975. Together, they built a life filled with love and unwavering devotion while raising four children: Christine Garvelli of Buffalo, NY, Michelle Albertelli of Rochester, NY, Dennis Jr. of Rochester, NY, and he was preceded in death by his son Frank DiFabio. His legacy extends to his five cherished grandchildren: Joseph Garvelli (Haley), Jacob Garvelli (Kelsey), Justin Garvelli, Lexi DiFabio, and Benicio DiFabio.
He is also survived by his brother, Louis Joy, and sister, Mary Ellen Joy, as well as numerous beloved nieces, nephews, and cousins.

Dennis will be remembered for his exceptional dedication, not only to his family but also to his community. His volunteer work was a testament to his selflessness, notably as a devoted member of the Barnard Fire Department. In August 1979, he achieved a lifelong dream by becoming an active member of the department. Despite his full-time job at Kodak and the responsibilities of raising a family, Dennis excelled in his volunteer role, earning recognition as a top call man multiple times during his remarkable 30-year tenure.

His commitment to the Barnard Fire Department extended to various roles, including serving as Chaplain from 1981 to 1983, as a member of the Board of Directors in 1985, 1986, and 1992, and as Department President in 1990 and 1991. Dennis's dedication also encompassed the broader community, as he served as District Commissioner from 2001 to 2005 and held the position of District Commission from 1994 to 2013. He resigned as an active member in 2010, having served an astounding 30 years, but continued to cherish the memories and lifelong friendships he formed with Fran McKenna, Ed Tydings, and Norm Gerhard during those years.

In addition to his dedication to family and community, Dennis had a profound passion for his dogs, affectionately known as "Da Boyz." He will be warmly remembered for his sense of humor, often expressed through his witty (and sometimes not-so-witty) corny jokes.

His laughter and positivity touched the lives of all who had the privilege of knowing him.

To honor Dennis's life and legacy, his family invites you to join them for a visitation on Thursday, September 7, from 5 pm to 7 pm at Bartolomeo Funeral Home, located at 1411 Vintage Lane. A Funeral Mass will be celebrated on Friday at 9:30 am at St. Charles Borromeo Church, 3003 Dewey Avenue. Dennis will find his eternal rest in Holy Sepulchre Cemetery.

In lieu of flowers, the family appreciates donations made in Dennis's memory to American Cancer Society, PO Box 22718, Oklahoma City, OK 73123-1718 or the Barnard Fire Department, 3084 Dewey Ave., Rochester, NY, 14616, two close causes to Dennis's heart.

Dennis M. Joy, Sr. will be deeply missed but forever remembered for his enduring love, dedication, and laughter that brightened the lives of those around him.
THU, SEP 7, 2023 AT 5:00 PM - 7:00 PM
Bartolomeo & Perotto Funeral Home
FRI, SEP 8, 2023 AT 9:30 AM
3003 Dewey Avenue
Rochester, NY 14616
________________________________________________________________________________
mark renz
-

1st vp 
/ exempt historian
Sandi Hillebrandt -

Secretary
doug scarson -

Chief Engineer
Ron Rozinski -

Assistant Chief Engineer
Jim Derleth -

Sergeant at arms
barbara williams -

chaplain



TRUSTEES
fred petroske -

vice chairman
gerry dunst      Mike Pospula     john shick
Barnard Exempt Firemen's 
Association 360 Maiden Lane Rochester, NY  14616
for barnard exempt party house inquiries call: